Filter by Category
Travel
Becoming Your Own Travel Agent-NEW!
with Becky Ranks

Apr 30, 2019 at 6 pm

, runs for 1 week
This class will provide resources and information for anyone who wants to find the best deals for hotels, cruises, RV travel, Airbnb, escorted tours and more. We will answer questions about RV driving to Alaska and the western US, how to get the lowest prices for escorted tours to almost anywhere, and getting great deals on hotels while traveling at home and abroad. Information will be presented on river cruises for less, as well as airfare tips. In addition, you will go home with valuable online resources.
Instructor: Becky Ranks
Tuesday, April 30, 2019
Time: 6-8:30 pm
Location: MCHS
Registration: $20
Will run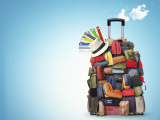 Travel Series with Elizabeth & John Reinsborough-NEW!
with Elizabeth & John Reinsborough

Mar 7, 2019 at 6:30 pm

, runs for 3 weeks
Around the Country in 49 Days NEW!--This is the story of a 2017 camping road trip from Maine to California and back. We will make stops at 35 mostly lesser known National Parks and interesting sites, and discover more about our country. March 7, 2019
Ireland NEW! "Ireland has the resources of an island but the culture of a civilization." This program will focus on the 26 counties of the Republic of Ireland. It will look at the scenery, at major cities, the literary contributions, flora and fauna and take a brief look at some of Ireland's legendary islands. March 21, 2019
The Greater Yellowstone Ecosystem NEW! The Nat. Park Service is now over 102 years old and Yellowstone was the first National Park. Its ecosystem, however, includes both Grand Teton and Glacier National Parks. We will also look at the formation of the Park Service, the ecosystem concept and threats to the future of this iconic place. April 4, 2019 
Thursday evenings, 6:30-8 pm, at Maranacook Community High School
Cost: $8 per session or all 3 for $20   
Will run