Filter by Category
HiSET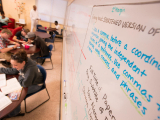 Registration Unavailable
English Skills and Writing Fundamentals
with TBD To Be Determined

Jan 28, 2019 at 5:30 pm

, runs for 22 weeks
The course focus is on developing reading and writing skills. You will learn to identify and correct common writing errors, and learn helpful techniques to get your ideas down on paper. We will read short stories, a novel, opinion essays and non-fiction articles. The class will benefit students preparing for the HiSET or college and credit recovery students needing English credits for their high school diploma.
Instructor: TBA
Mondays and Wednesdays, 5:30-8:30 pm
Begins: Week of September 24
Location: MCHS
Registration: Free to diploma and HiSET students Contact Steve Vose, Adult Ed Director, for enrollment information 685-4923 x1009
Registration Unavailable
Odysseyware Learning Lab
with Scott Harmon

Jan 28, 2019 at 5:30 pm

, runs for 22 weeks
Odysseyware offers individualized, self-paced modules designed to provide online classes across a diverse selection of units of study, including: Algebra, Applied Math, Statistics, Geometry, Chemistry, Biology, Physics, Basic Reading Skills, Geography, US History, US Government and Writing. Odysseyware is perfect for those with limited time to have a chance to pursue a high school diploma.
Instructor: Scott Harmon
Tuesdays and Thursdays 5:30-8 pm
Begins: week of January 28, 2019
Location: MCHS
Registration: Free to diploma and GED students