Filter by Category
Cooking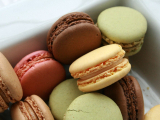 French Macarons NEW!
with Kathryn Booth

Feb 3, 2020 at 5:30 pm

, runs for 1 week
The word macaron is derived from the Italian word, maccherone, mean-ing fine dough. It's believed that the macaron cookie was born in Italy and brought over to France as early as 1533 by a noblewoman from Florence who married the future King of France, Henri II. A macaron has two delicate almond cookies that are sandwiched around a flavorful filling, like raspberry jam, or lemon curd – or even a chocolate buttercream. In this class, learn how to make french macarons, the perfect Valentine's Day dessert!
Instructor: Kathryn Booth
Monday, February 3, 2020
Time: 5:30-7:30 pm
Location: MCHS
Registration: $10
Full Course
Cooking with Essential Oils
with Mary Alderman

Apr 7, 2020 at 6:30 pm

, runs for 1 week
Cooking With Essential Oils
Come join us in hands-on class and take home some simple and delicious treats made with essential oils.  You will learn how to determine what oils are safe to take internally and how to use them. You will have the opportunity to sample a variety of treats including a dip, main dish, and a sweet treat as well as the recipes so that you can make them at home.
 There will be a lab fee for this class of $20 to cover food and oil costs. 
Instructor: Mary Alderman
Tuesday, April 7, 2020
Time: 6:30-8:30 pm 
Location: MCHS
Registration:  $10
Supply fee (see above) payable to instructor.