Filter by Category
Cooking
Online Chinese Cooking with Chris Toy
with Chris Toy

Dec 15, 2020
Online Cooking with Chris Toy
Join best-selling cookbook author and cooking instructor Chris Toy, as he shows you step by step the secrets to some of his favorite recipes: Five Seasons Wok Roasted Whole Chicken, Wonton Soup, Stir-Fried Hoisin Pork, Egg Rolls and more! Start and finish in your own time! Students will have access to all the videos and Chris's new cookbook. Get started by viewing all the recipes and online videos. Decide what you'd like to try first, then make a shopping list. Practice, eat, repeat as often as you like.
Upon registration, students will be sent links to access instructional videos as well as Chris's phone and email information for personalized support.
Registration: $24.99 Includes a copy of Chris's new cookbook, a $16.95 value!
Class access available until July 31, 2021
Will run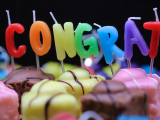 Planning a successful event during these challenging times!
with Mary Alderman

Feb 16, 2021 at 6:30 pm

, runs for 1 week
All kinds of parties and events come into our lives: engagements, weddings, anniversaries, baby showers, bridal showers, retirements, holiday parties and much more. Let's talk about ways to make your day special while reducing the stress that often surrounds these events. 
And even though you may not be able to make the reservations or plan the exact day just yet, let's prepare! This class is an overview of what you need to know so that when we are allowed to meet in groups (hopefully soon!!), you can hit the ground running, knowing exactly what you want.  
This time of enforced social distancing will give you time to make decisions without the normal rush that usually surrounds large events. It will allow you to make sound decisions that reflect what you really want in your event from a large lavish wedding to a smashing Christmas party.
Cost: $20 per couple
Onlive Live - Zoom
Fit for a King: Food, Feasting, and Festivals in Medieval England
with Matt Blazek

Mar 16, 2021 at 6:30 pm

, runs for 2 weeks
Toss that turkey leg away; lets learn about what kings really feasted on in medieval times. We'll talk about some of the most outrageous feasts and foods from Medieval and Tudor England, then learn how to read medieval recipes, adapt them to modern cooking, so you can make a feast of your own! Due to the nature of historical cooking, recipes may contain nuts and gluten.
Online Live - Zoom
About your instructor:
4 years professional history lecturer, lead historical interpreter The Agincourt Soldier. State of Maine licensed Substitute. Guest Lecturer Medomak Valley High School english classes. 25 Years Medieval Reenactor experience. 20 years researcher experience. BA Medieval & Renaissance Literature University of Southern Maine