Filter by Subcategory
Business & Skills Training
CDL Career Night
with Nancy Frost

Nov 9, 2017 at 5:30 pm
, runs for 1 week
Commercial Driving License (CDL): Career Night
Any CDL Student or person with a Class B driving license is invited to come talk with truck driving companies looking to hire. Join us and leave with a new career!
Thursday, November 9, 2017
Time: 5:30-7:00 pm
Location: PDC, 75 North Rd, Readfield
Registration: FREE, but please call to register or register online!
Course will run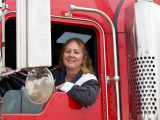 CDL Class B: Dump Truck or Bus
with Nancy Frost

Sep 21, 2017 at 5:45 pm
, runs for 6 weeks
This class prepares you to meet Maine DMV requirements and gives you the hands-on skills that employers demand. The course consists of 42 hrs of classroom instruction to prepare you for the CDL license process, including written and skills exam. The 30 hours of one-on-one range instruction will prepare you for the road test.
In addition to the cost of the course, a $35 permit fee, payable to the Secretary of State, is due by the second class.
Additional endorsements of Bus, Tank and Hazmat are $10 each. For the bus driving endorsement you must be over 21, have a clean driving record and get a physical exam at your own expense.
Instructor: Nancy Frost
Orientation: September 21, 2017, 6-7 pm
Classes meet on the following dates and times:
Thursdays: 9/28, 10/5, 10/12, 10/19, 10/26, 11/2 (5:45-9 pm) Saturdays: 9/30, 10/7, 10/21 (8-2:30 pm)
Driving time arranged individually with Instructor
Location: PDC, 75 North Road, Readfield
Registration: $1,900
Payment plans are available. Contact Steve Vose, Adult Ed Director, for more information. 685-4923 x1009